After the first season of the successful 24Kitchen TV programme Karsu's Turkish Kitchen, there will now be a second season. The Amsterdam-based food content agency Scrambled will produce the programme again. "After the resounding success of the first series of cooking programmes with Karsu, we are now also going to produce season 2," says Marjolein Kiestra, Commercial Director of Scrambled, enthusiastically. "Last Friday we started the recordings of this new series. Yum!"
Karsu's Turkish Kitchen is produced on behalf of 24 Kitchen. Scrambled is once again responsible for the entire production; from working out the TV format to food styling and the final shoot in the studio. The recipes were developed in close consultation with Karsu and are totally different from the first season. Marjolein: "It is of course a joy to be able to produce this series with Karsu again. We have been looking for beautiful new dishes, nice guests and of course new information about the versatile Turkish cuisine. It can hardly be denied that the viewer will feel with how much pleasure and enthusiasm we have made this series!"

A perfect match
Scrambled is extremely happy that 24Kitchen has once again approached them for the production of a new season of Karsu's Turkish Kitchen. "The DNA of 24Kitchen fits very well with our way of making TV programmes. Developing the recipes and preparing the dishes is something we take very seriously, but humour and entertainment are also an important part of the programme. The balance between these two things makes it possible for us to make such a great programme with 24Kitchen", Marjolein says.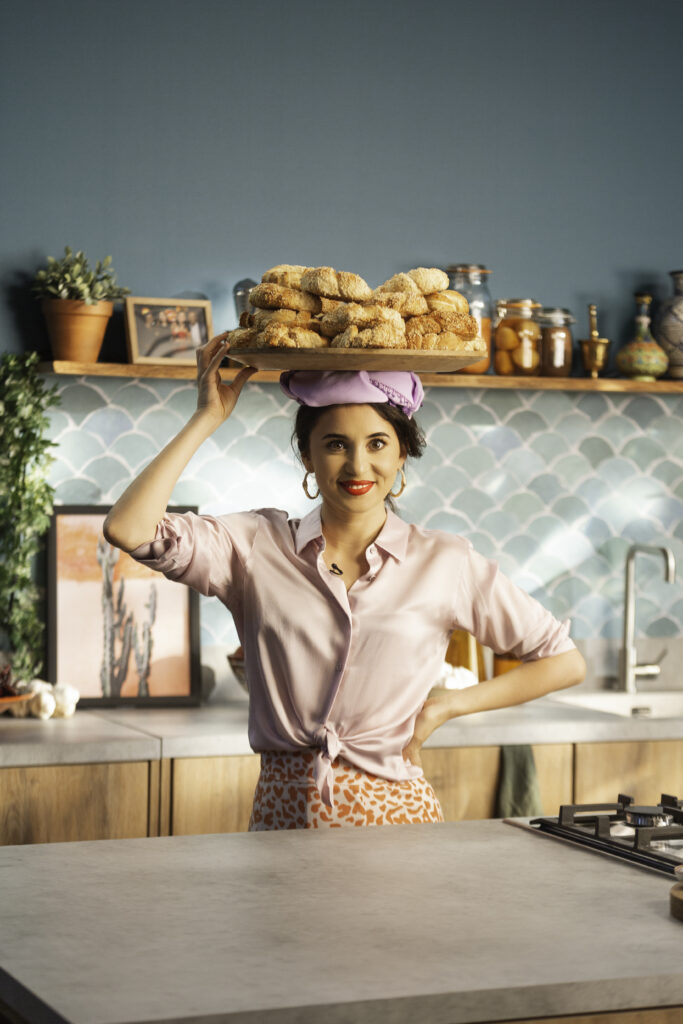 24Kitchen is also happy that there will be a new season of Karsu's Turkish Kitchen. Kiki Bours, Channelmanager 24Kitchen: "Karsu is a wonderful addition to our 24Kitchen family. With her own style and beautiful stories she knows how to get the viewer enthusiastic for the Turkish kitchen and she shows us how easy and tasty the dishes are. That fits perfectly with 24Kitchen's mission to provide help and inspiration for everyday meals." 24Kitchen is very pleased with the collaboration with Scrambled. Bours continues: "This production is again in good hands with Scrambled. With enthusiastic and talented professionals, they make TV programmes, video content and photography for our platforms. They understand what food content should be."
Karsu is also very much looking forward to the new season: "Scrambled makes creative dreams come true. Working with this talented and motivated production team is very inspiring. Bringing the culinary world to life is an art form that Scrambled has mastered well. The combination of working with the right team and being given a lot of editorial freedom will undoubtedly result in a fresh and tasty new series of episodes.
This tastes like more…
This is the third programme series Scrambled will produce for 24Kitchen. In total 20 episodes will be recorded for the new season of Karsu's Turkish Kitchen. These episodes will be seen on TV channel 24Kitchen in May 2022. The food content agency sees this new assignment as an excellent opportunity to further shape their TV production branch. Marjolein: "We have acquired a taste for it. We are currently looking at how we can further roll out the television arm of Scrambled internally. In addition to growing in volume, continuously innovating and becoming even better at what we already do – namely, producing high-quality food content – it is our ambition to become the number one cooking programme producer in the Netherlands."
About Scrambled – The Food Content Agency:
Scrambled specialises in the production of high-quality food content. As a culinary producer, they create delicious and high-quality (online) food content for various A brands. It started in 2013 as a content producer for Koken met Aanbiedingen and has grown in eight years to become a renowned food content production agency.
From the new Scrambled Studios in Amsterdam, which they recently moved into, they produce high-performing (digital) content for various channels on a daily basis. From snackable content for advertising and branding purposes, enticing videos and stunning photos to delicious recipes, carefully styled and shot to perfection. Original and fast. "Always food related, because that's where our heart is. So whether it is a perfect packshot, a successful social campaign, a TVC or a full blown TV-format, our team of 'food loving minds' always know what to do", says Rob Viguurs, Managing Director of Scrambled.
About Karsu Turkish Kitchen:
In Karsu's Turkish Kitchen, viewers learn all about Turkish cuisine. The singer and TV chef Karsu Dönmez gives Turkish specialities a modern twist in her programme. From classics like mercimek corbasi and cilbir to new public favourites like manti and gözleme. The dishes are delicious, colourful and above all very easy to make. You simply must try these dishes! The second season of Karsu's Turkish Kitchen will be broadcasted at 24Kitchen every evening at 18.00 hrs in May 2022.
About Karsu:
Singer & TV chef Karsu Dönmez was brought up with a love for food as the daughter of a restaurant owner. Her family comes from Hatay, a special region in Turkey. That is why this region is so special to Karsu, but also because the most delicious dishes come from there. You will learn all about it in Karsu's Turkish Kitchen.